Selena Gomez and The Weekend have reportedly called it quits.
People reported on Monday that the A-list couple has broken up after 10 months of dating. Rumors started swirling of a potential breakup after Gomez had been spotted hanging out multiple times with ex Justin Bieber — though they're reportedly not back together romantically.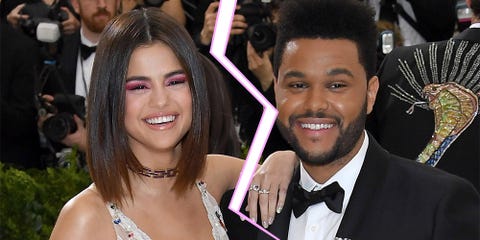 "She and Abel had been going back and forth or a few months about their relationship," a source told People. "It's been hard with him being on tour and her shooting in New York. That wasn't easy on them."
READ ALSO: Beyoncé And JAY-Z Transform Into Lil' Kim And Notorious BIG For Halloween
The Weeknd has been traveling the world on tour while Gomez films an upcoming movie directed by Woody Allen.
"It's been hard for them to come to the realization that this is the direction things were heading, but it's been hard for months," the source continued, before adding that the "Hands To Myself" singer had "always made an effort" to go to her boyfriend's concerts.
"That played a part in them getting distant," the source explained. "It's over for now, but they're still in touch."
Gomez and The Weeknd first fueled romance rumors when TMZ published photos of them making out following an intimate dinner date in Los Angeles in January. Over the following months, they were spotted packing on the PDA in multiple countries, including Italy and Canada.
Over the past week, Gomez and Bieber have been spending more time together, with Bieber hanging out at Gomez's house until midnight one night before they were photographed grabbing brunch together in Los Angeles this past weekend. Though insiders insist that they're strictly reconnecting as friends, the former couple has a long history together.
And it's for precisely that reason that Gomez's family is reportedly more than worried about their reconciliation.
READ ALSO: Pregnant Kylie Jenner Keeps Her Belly Under Wraps While Posing with Mom Kris Jenner
"Justin is a vile human and will never be accepted by us," a family member told TMZ. "As long as she is even speaking to him in any way, it is not only disrespectful to everyone around her, it is disrespectful to herself."
Gomez's relationship with The Weeknd wasn't without it's share of controversy, either. When the former couple was first linked at the beginning of this year, The Weeknd had just broken up with model Bella Hadid and Gomez had been friendly with her sister, Gigi.